Sale!
Lumbarc™ Back Stretcher
By placing the order on our store, you accept our shipping/return policy. 
We suggest you to read our Return Policies carefully before filing any claim. Make sure that the product is eligible for any claim to avoid any dissatisfaction.
Returns are only accepted after approval by our customer support. To begin a return or any other query, please contact the support team at 

[email protected]

 within 14 calendar days from the date package is delivered.
Un-Used, unopened items can be returned within 14 calendar days of delivery, conditions applies.
If the item is defective/damaged or not working, please file a claim and provide a proper verification as requested by the customer support representative. Unverified products will not be entertained with return, exchange or refund. Without verification, we can't resolve your issue. Claims filed after 14 calendar days time window will not be accepted.
You must always consider using a trackable shipping service or purchasing shipping insurance. We do not provide a return label or pay for returns shipping. 
Any product that you return must be in its original condition and packaging. Items altered by you in any way after receiving are not eligible for return. Please keep the package return receipt with you and email us its pictures so that we can keep track of the package.
While placing the order, please be considerate of choosing the correct size, color, and other details. Please check the details twice before confirming the order to avoid any return or exchange claims afterward.
We do not accept return, exchange, and refunds of the following items:
Handmade Items.
Beauty, Personal care, Hair Removal & Health.
Eyewear, Jewelry & Watches, Women's Intimate Apparel.
Change of mind is not an acceptable reason for any claim of return, refund, or exchange. 
While ordering print-on-demand products, please make sure to check the size chart and color carefully. These items are made only when the order is placed so we cannot accept any claims regarding their refund, return, or exchange. 
Packages that are rejected or refused to receive upon delivery, abandoned, or packages returned outside the designated return process are not accepted as a return.   
Items that are bought with store credit or gift card are not eligible for return. The gift cards and store credits issued by us are not exchangeable or refundable.
All custom duties are the responsibility of the recipient. The custom and duties are charged by the Border Agencies in your country, not by us. They are collected and held by them and are non-refundable. We do not wish any inconvenience for our customers.
For undelivered or lost packages, please file a claim within 60 calendar days of the dispatch date. Claim filed after the mentioned time bracket will not be accepted.   
If you did not receive your package and it is marked by the courier as delivered, it will not be considered lost. Please file a claim with the courier.
In order to avoid delivery issues, please ensure that you mention your proper, complete address on the checkout. The items that are returned because of incomplete addresses are not eligible for refund or store credit.
Cancellations/changes in order are accepted within 60 minutes if the order is not shipped. After your order has been dispatched from our warehouse and assigned a tracking number canceling/retrieving the package becomes virtually impossible.
Only store credit is given for the products purchased from the store with equal to or more than 15% discount from the full retail price. 
Refunds or store credit for the returned product will be issued within 30 days after the product is received at our return address.
Refund to your products is provided on your original payment method. If you ordered through Paypal, the refund will be issued to your Paypal account only, or if you ordered through a credit card, the refund will be issued on the same credit card. Change of account details is not accepted for refund.
Any returned item that falls outside our Return Policy or is not eligible for refund or store credit is discarded by us. 
We offer free worldwide shipping with 2 to 3 business days for order processing. After the order dispatch, the estimated delivery time is 7 to 10 business days depending on your country or region.
Sometimes we split your order into multiple shipments. It is done if we have something in stock that can be delivered to you before the rest of your order. In such a case, you'll be notified along with the tracking information of each shipment.
We try to ensure that the quality of both the product and packaging is perfect. But considering that logistic companies do the shipping, we cannot guarantee you completely undamaged packaging. So any return, refund or claims on product packing are unaccepted. However, if the product is received in a damaged state, kindly let us know so we can make possible amends.
Order in The Next

to get it by

January 23, 2022

Real Time

117

Visitor Right Now

Guarantee safe checkout
Description
✅ SAVE 50% OFF – 24 HOURS ONLY – 
✅ 100% Money Back Guarantee 
✅ Free Shipping Worldwide On All Orders 
With only 5 to 10 minutes per day, our customers have manifested severe back pain relief after 2 weeks of proper use. The Lumbarc™ Back Stretcher uses stretching and acupuncture therapy to relieve all forms of back pain by decompressing the vertebrae and improving blood flow through the spine.
We also know that paying a chiropractor is expensive, this is why Lumbarc™ was designed to be your personal back pain reliever device that will help you heal Chronic back pain, Muscle stiffness, Sciatic pain and even develop a better posture, all from the comfort of your home.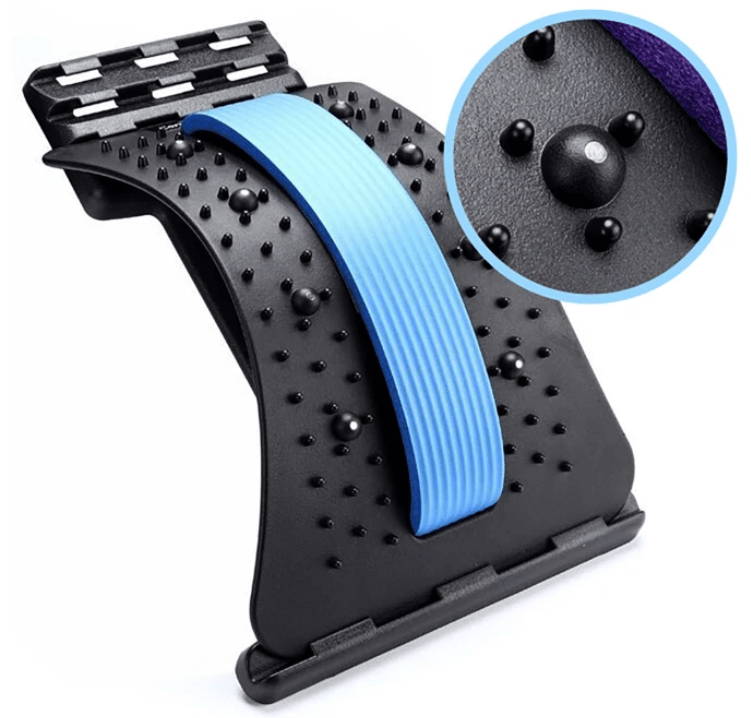 Lumbarc™ is a small lightweight multi-level stretching device that allows you to stretch out your back, and relieve muscle tension. With constant use, the device:
✅ RELIEVES LOWER BACK PAIN 
✅ RELIEVES MUSCLE STIFFNESS 
✅ RESTORES NATURAL CURVATURE 
✅ DECOMPRESSES THE SPINE 
✅ IMPROVES STRENGTH AND FLEXIBILITY 
✅ RELIEVES SCIATIC NERVE PAIN 
✅ CORRECTS YOUR POSTURE 
✅ PORTABLE AND EASY TO USE 
WHAT RESULTS CAN I EXPECT?
Instant Results: After a single session you will notice incredible improvements and relief of your back pain for the entire day.
Long Term Fix: On average, our customers have manifested significant improvements after 3 to 5 days of constant and proper use and absolute relief after 2 weeks of use.
Confidence & Posture: It is designed to sync with your spine's natural curvature and be comfortable enough for you to relax and stretch passively. We guarantee you will be walking taller and more confident with a better posture.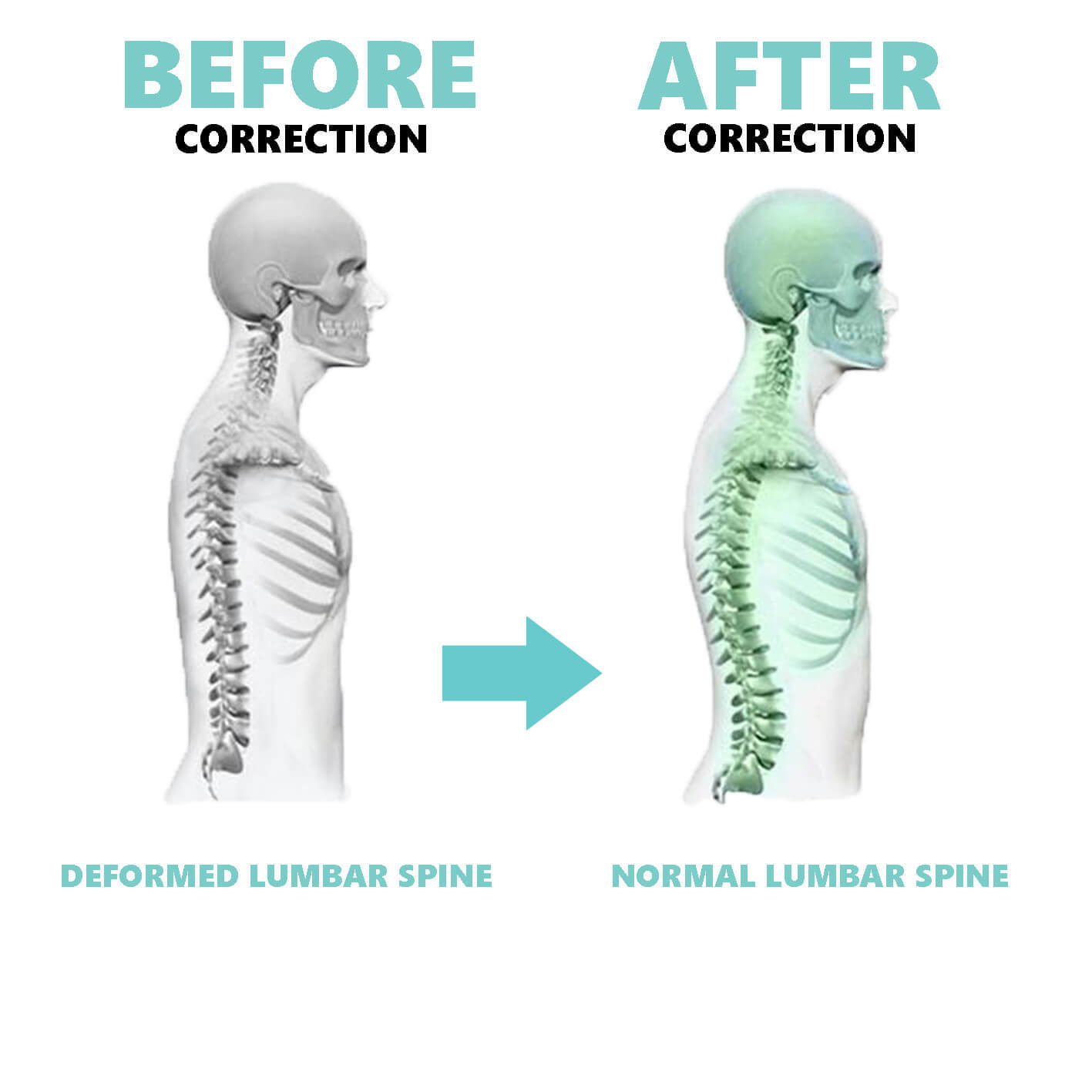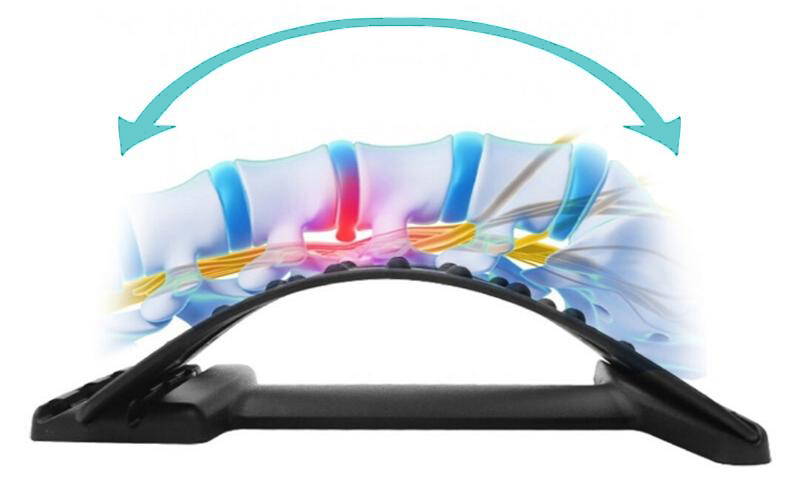 Back pain arises when there is decreased space between the intervertebral discs, which causes issues such as decreased blood flow and pinched nerves. Stretching your back is a simple way to improve the health of your spine and release muscle stiffness. By increasing circulation and lengthening the spine, Lumbarc™ Back Stretcher helps to relieve your back pain.
Lumbarc™ is a flexible device that will allow you to set up three different stretch levels. When lying down, gravity allows the front of your body to effortlessly stretch out and upwards. The surrounding muscles start to relax, gently decompressing the discs in your vertebrae, realigning the spine, relieving tension and pain. You'll be amazed how good it feels!
We recommend to use Lumbarc™ between 5 to 10 minutes twice a day in order to achieve better results. Below you find a step by step guide to set up properly your Back Stretcher:
1. Place the base and the arch on a flat surface with the end of the base facing towards you.
2. Get on your knees to stabilize the base and adjust the wider side of the arch at the end of the base.
3. Press with your knees the end of the base, and apply some force to bend the arch.
4. Finally adjust the arch to the level you want and lay on top of it to start stretching your back.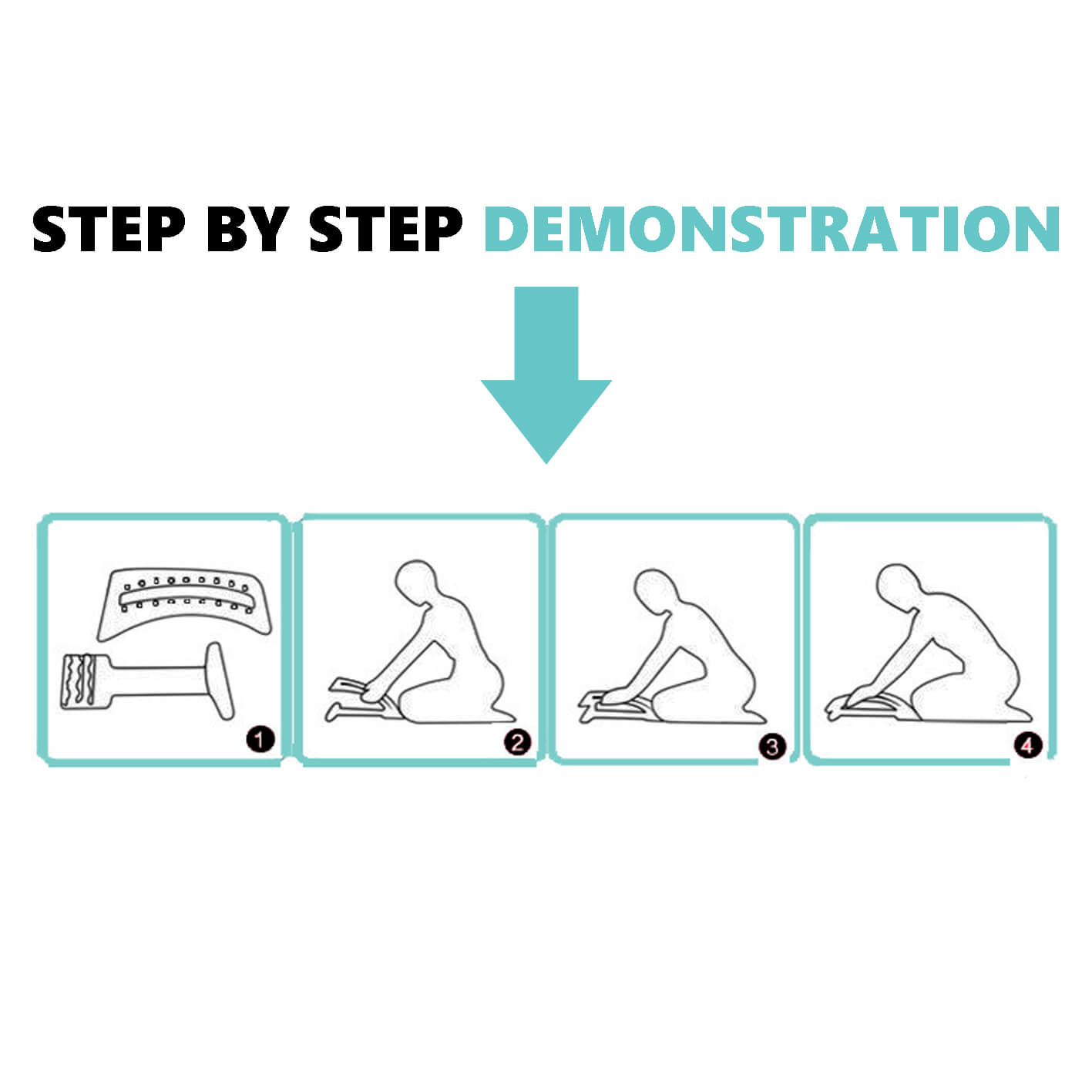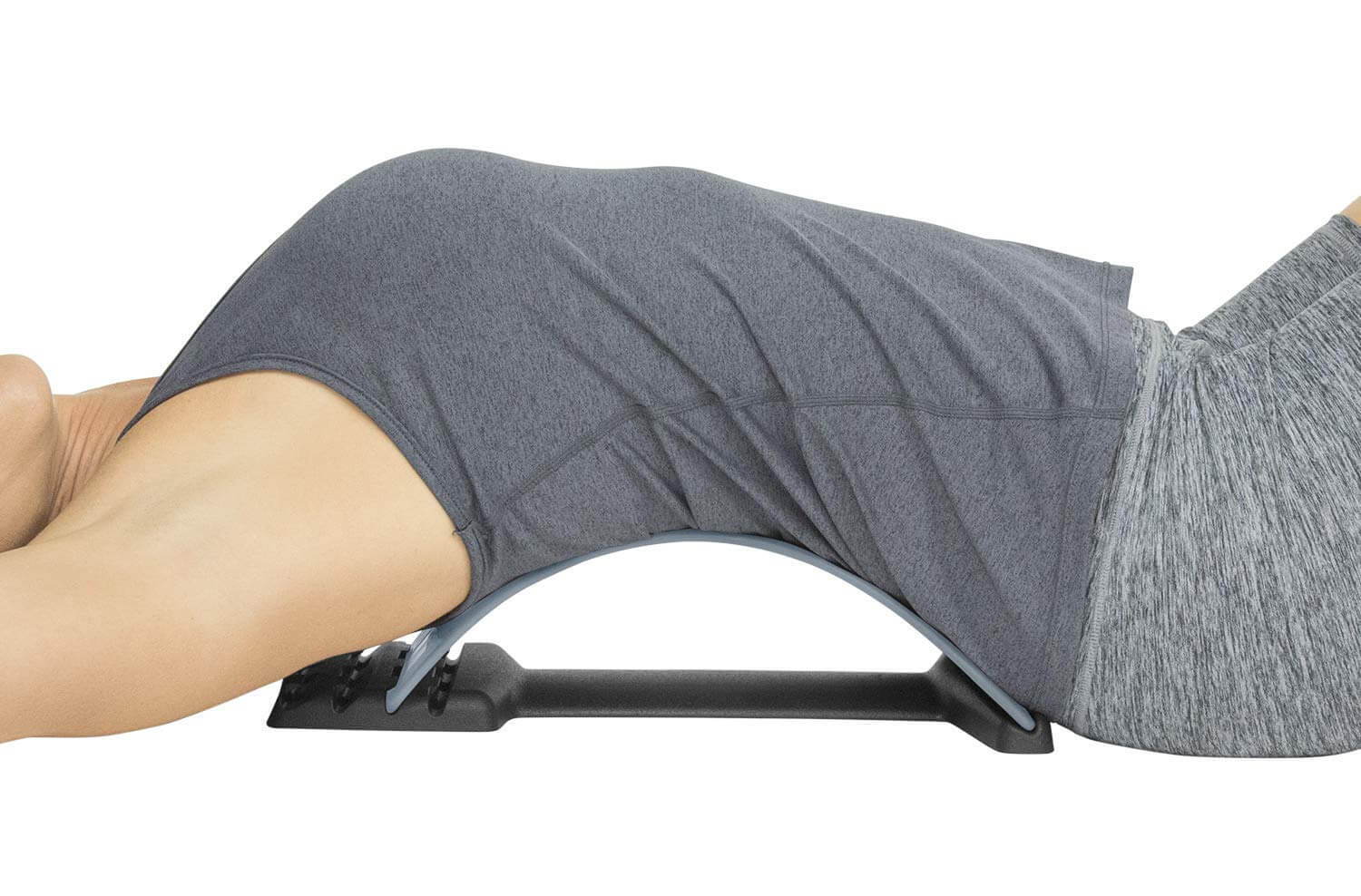 If you sit at the computer often, lift heavy items regularly, suffer back injuries, or simply suffer from chronic back pain then the Lumbarc™ Back Stretcher is perfect for you
Lumbarc™ was specially designed to be your own personal back stretching device that can be used from the comfort of your home, at any time, and for a very low price compared to expensive chiropractic sessions.
It´s the perfect solution for anyone looking for long term back pain relief.
All orders are expertly packaged, prepared, and shipped within one business day of ordering. We offer FREE shipping worldwide and the typical delivery time frame is between 4-10 business days. Depending on your location, you may receive items much earlier. All orders are shipped with the tracking number so you can track it every step of the way! Occasionally, packages may be faced with delays beyond our control such as customs or postal delays.
IMPORTANT! Please note that due to the pandemic situation some orders might experience delays depending of your location. We appreciate your understanding.
30 DAY RISK – FREE GUARANTEE
We have an iron-clad risk-free 30-day guarantee that begins only when you receive the product!If you don't have a positive experience for any reason, we will do whatever it takes to make sure you are 100% satisfied with your purchase.
FREQUENTLY ASKED QUESTIONS
What pain does it help with?
Lumbarc™ helps with back, hip, neck, shoulder and even head pain. It can alleviate pain caused by Herniated Discs, Bulging Discs, Spinal Stenosis, Sciatica, Pinched Nerves and more! It stretches your back and naturally decompresses your spine which relaxes your muscles and restores your natural curve.
Most customers report feeling significant improvement after only 3-5 days of proper use.
You can use it at home, in the office or while driving. It can be used laying down or while sitting in a chair.
How long do the benefits last?
We recommend using it twice a day for 5 minutes at a time. This will ensure lasting results and continued comfort. Over time, it will significantly improve your posture and strengthen your muscles.
Can I try it risk-free?
Yes you can! We are very confident you will love Lumbarc™, however in the event that you do not, we have a 30 day money back guarantee.
We offer FREE worldwide Fast Shipping! Orders typically take 4-10 business days to arrive once shipped.
Pandemic situation
All orders are being normally processed as regular, but shipping times might experience some delays since we use third party shipping companies that help us deliver our products worldwide. Please note that our entire operations team is working as regular and your inquires will be responded as soon as possible at [email protected]
More Offers
Sorry no more offers available